VI Festival Alta Val Nervia 2017 @Castelvittorio
July 27, 2017

-

July 30, 2017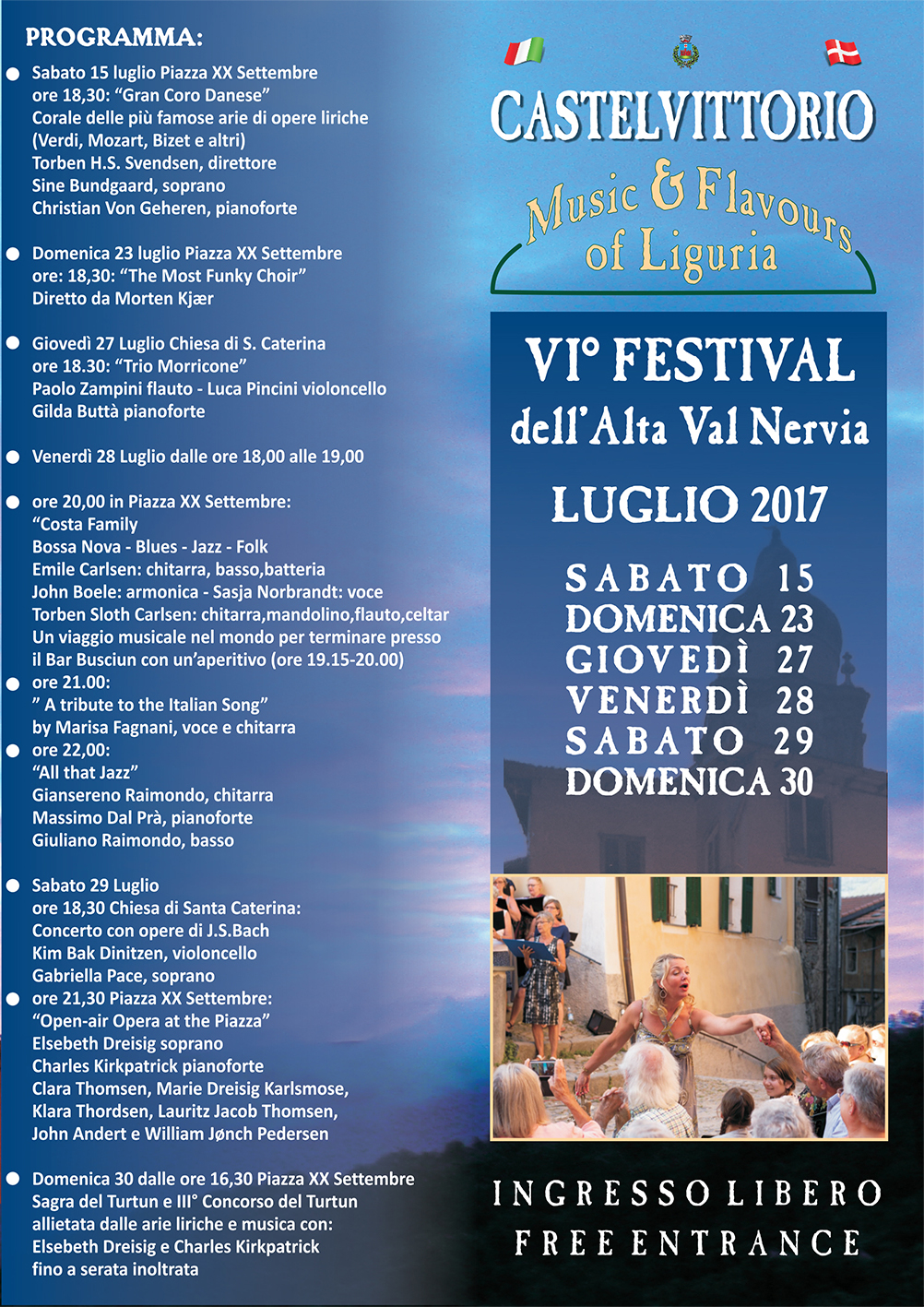 This year the concerts will take place in the beautiful village of Castelvittorio, on the medieval piazza and in the former church of Santa Caterina. We hope to meet all the music lovers of the Nervia Valley again. The program is not totally ready yet but so far we are proud to present the following artists.
Quest'anno i concerti si svolgeranno nel bellissimo villaggio di Castelvittorio, sulla piazza medievale e nella ex chiesa di Santa Caterina. Speriamo di soddisfare tutti gli amanti della musica della Val Nervia di nuovo.  Il programma non è del tutto ancora pronta, ma finora siamo orgogliosi di presentare i seguenti artisti.
Thursday / Giovedi  Luglio 27 – Ennio Morricone
Presenting music of Ennio Morricone through the musicians that have originally recorded some of Morricones music, The Trio Morricone.Famous and highly respected Italian musicians
Presentare la musica di Ennio Morricone attraverso i musicisti che si sono registrati in origine un po 'della musica Morricones, il trio Morricone. Famoso e musicisti italiani di tutto rispetto
Paolo Zampini, flute – Luca Pincini, violoncello  & Gilda Butta, pianoforte.
Friday / Venerdi Luglio 28 – JAZZ night at the Piazza.
This evening you can – among others – meet the local hero, the former Morricone guitarplayer and the banjo player from Once Upon a Time in the West, Giansereno Raimondo AND a wonderful italian singer and guitarist Marisa Fagnini.
Questa sera è possibile – tra gli altri – incontrare l'eroe locale, l'ex chitarrista Morricone e il suonatore di banjo da C'era una volta il West, Giansereno Raimondo e una meravigliosa cantante e chitarrista italiano Marisa Fagnini.
Saturday / Sabato Luglio 29  – Opera at the Piazza
The piazza will be transformed into a theater where a group of younger operasingers will perform highlights from various operas, under the instruction of Mikael Melbye, the soprano Elsebeth Dreisig and the tenor Jan Lund.
E la piazza si trasformerà in un teatro dove un gruppo di operasingers più giovani che si esibiranno mette in evidenza da varie opere, sotto la guida di Mikael Melbye, il soprano Elsebeth Dreisig e il tenore Jan Lund.
Sunday / Domenica Luglio 30 –  Festa di Turtun e musica.
The festival will share the stage with the local Festa di Turtun. A traditional village party where the local delicious torta TURTUN is being celebrated. If you show up on the piazza sunday afternoon you will be spoiled with both classic music and delicious food.
Il festival si divideranno il palco con la locale Festa di turtun. Un partito villaggio tradizionale, dove si celebra la deliziosa torta turtun locale. Se ti presenti in piazza domenica pomeriggio vi sarà l'imbarazzo sia con musica classica e il cibo delizioso.
Back with more news later.
And to our kind sponsors: please contact festivalleader Pia Scharling if you wish to support the festival
Torneremo con più notizie dopo.
E ai nostri gentili sponsor: si prega di contattare festivalleader Pia Scharling se si vuole sostenere il festival.
piascharling@gmail.com
Follow us on facebook https://www.facebook. com/festivalnervia/ and ofcourse on the web page http://altavalnervia.com/