Classical-Contemporary Music Concert @Baiardo
May 24, 2018 @ 10:00

-

20:30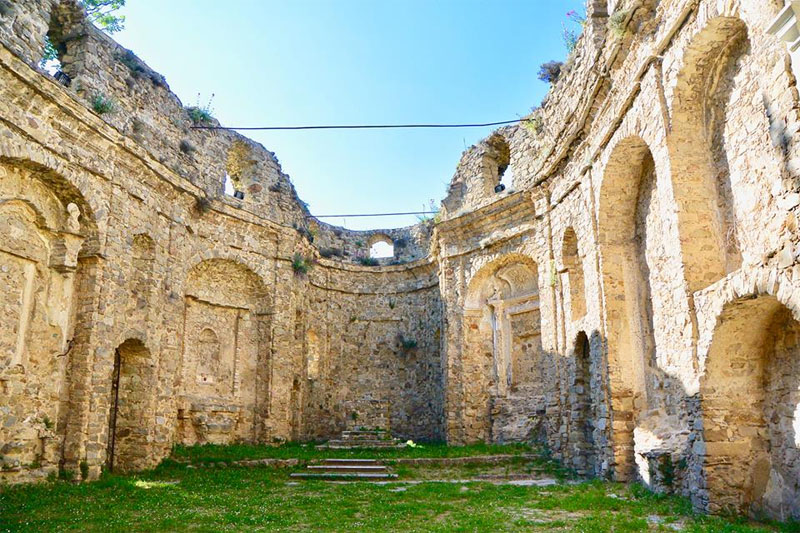 Piu di un concerto–un giorno per scoprire i splendidi dintorni di Baiardo
10:00 – 20:30
Mostra di arte locale
16:00
Visita guidata di Baiardo in italiano
17:00
Visita guidata di Baiardo in inglese
18:30
Concerto da SOLI Chamber Ensemble alla chiesa rovinata
19:30
Aperitivo offerto dal comune di Baiardo
Tutto a entrata libera, tutti sono i benvenuti.
History, scenery and music will converge at concert on May 24
Release: 11 May 2018. FOR IMMEDIATE RELEASE
On Thursday May 24, enter the enchanting world of SOLI Chamber Ensemble in a special one – time
concert in the village of Bai ardo (10 km north of Sanremo) . Taking place within the walls of the ruined
church of San Nicol ò with stunning views of sea and Alps , the concert will be an intimate sensory
experience that marries sound, scenery , the past and today.
SOLI Chamber Ensemble is one of the most acclaimed musical groups committed to contemporary
classical music in the United States , and has been selected as the 2018 Ensemble – in – Residence at the
prestigious Alba Music Festival that begins on May 26. The ensemble has been at the forefront of
commissioning new works by established and emerging composers and on May 24 will perf orm a
selection of those works along with iconic pieces of contemporary chamber music.
Ospedaletti resident Carina Gors is a longtime supporter of SOLI and the organizer of the concert. She
explains, "The first time I visited the ruined church in Bai ardo, the energy of the setting was
unmistak able — it's been spiritually and strategically significant for thousands of years. When I learne d
that SOLI was coming to Italy, I immediately thought how magical it would be to experience their
musical artistry in a place of living h istory and magnificent scenery . It's been my pleasure to work with
communit y leaders in Baiardo to bring this idea to fruition and I hope music lovers from across the
Riviera will extend a warm welcome to SOLI . "
T he concert will cap a day focused on the arts and the history of Bai ardo. From 10 am until 20:30, works
by mor e than 20 local artists will be exhibited at San Nicol ò . At 16:0 0 and 17:00, guided tours of Bai ardo
will be offered in Italian and English, respectively. The concert will begin at 18:30 and at 19:30, Bajardo
ProLoco will offer a complimentary refreshmen t. All events, including the concert, are free. More
details are available on the Facebook page Concert in Baiardo .
Round – trip transportation is available from Sanremo to Bai ardo. A chartered bus will leave the old
station in Sanr emo at 16:30 and depar t from Bai ardo at 22:00 to return to Sanremo, leaving amp le time
for concertgoers to enjoy dinner in B ai ardo. Round – trip fare is € 12, to be paid in cash at pickup. To
confirm a spot on the bus, please email baiardoconcerto@gmail.com , or send a message via Facebook
Mess enger.
For m ore information, please contact Carina Gors at +39. 391. 4089448 .