Festival Alta Nervia 2018 @Castelvittorio
July 26, 2018

-

July 29, 2018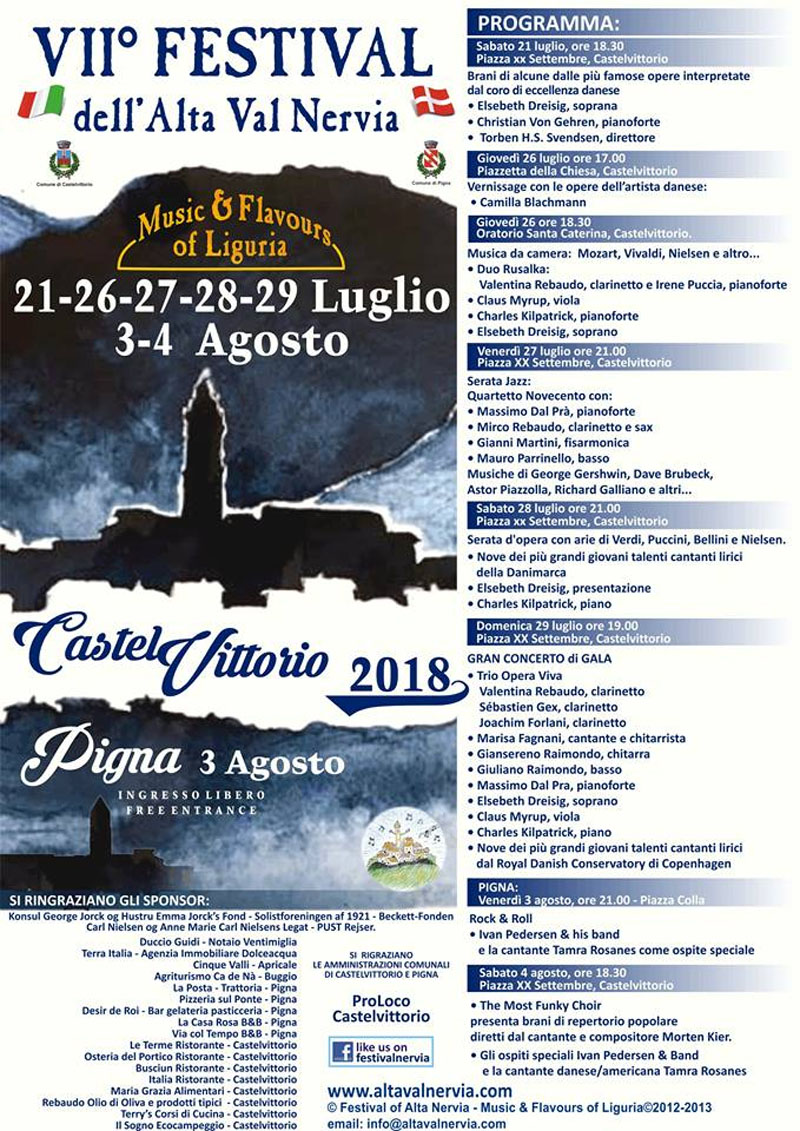 Thursday, July 26th. 18.30.
Chamber music in Oratorio Santa Catarina in Castelvittorio.
Mozart, Vivaldi, Nielsen and more.
ARTISTS:
Duo Rusalka: Valentina Rebaudo, Clarinet & Irene Puccia, piano
Claus Myrup, bratsch
Charles Kilpatrick, piano
Elsebeth Dreisig, soprano
The audience awaits an intimate and unique chamber music experience in the beautiful old church, Santa Catarina in Castelvittorio. The church has just been restored and on the walls are seen parts of ancient 14th century murals, paintings that appeared when you recently started cleaning the old stone walls.
Friday, July 27th. 21.00.
Jazznight at the Piazza of Castelvittorio.
Starring: Quartetto Novecento
Massimo Dal Prà (Piano), Mirco Rebaudo (Clarinet and Sax), Gianni Martini (Accordion), Mauro Parrinello (Bass)
Music by George Gershwin, Dave Brubeck, Astor Piazzolla, Richard Galliano and others.
Saturday, July 28th. 21.00.
Opera evening at the Piazza of Castelvittorio with arias of Verdi, Puccini, Bellini and Nielsen.
Starring: 8  young singing talent from Denmark.
Elsebeth Dreisig, instruction and presentation
Charles Kilparick, Piano
Castelvittorio's ancient piazza transforms into a magic operascene, where we will experience selected arias from the most famous and beloved operas. The Danish soprano Elsebeth Dreisig and the English director and pianist Charles Kilpatric stand for instruction and setup, the performers are 8 star seeds, young Danish singers from the Royal Opera Academy and from the Danish Conservatory of Music.
The 8 singers come with lots of energy, talent and singing joy and have already received a lot of publicity and praise in their careers.
Sunday, July 29th. 19.00.
GALLA CONCERT
Piazza XX Settember, Castelvittorio
Starring:
Trio Opera Viva plays Mozart:
Valentina Rebaudo, Clarinet
Irene Puccia, piano
Joachim Forlani, Clarinet
Marisa Fagnani, singer and guitarist
Giansereno Raimondo, Italian guitarist Giansereno Raimondo has played with Ennio Morricone's orchestra for many years.
Giuliano Raimondo, bass
… ..and many more!