Claude Monet, Return to the Riviera @Villa Regina Margherita – Bordighera @Castello Doria – Dolceacqua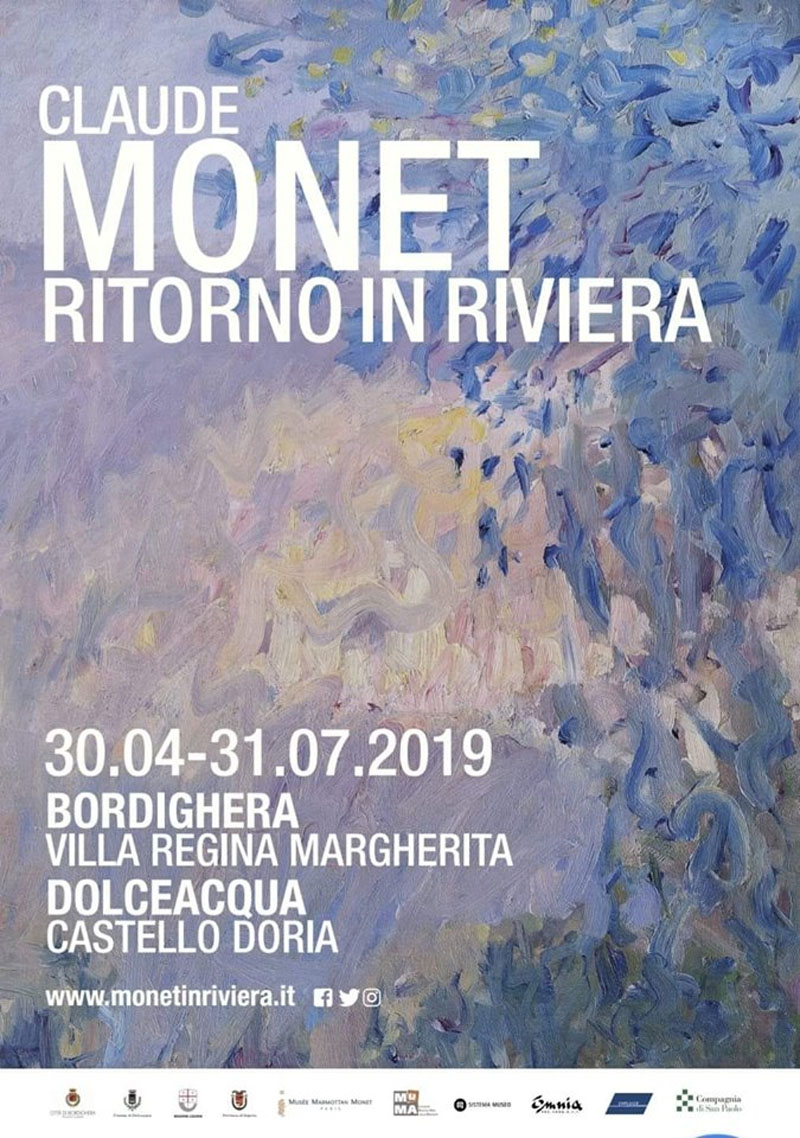 MONET, RITORNO IN RIVIERA
30 APRILE – 31 LUGLIO 2019Sedi di mostra:
Villa Regina Margherita, BORDIGHERA – Via Romana, 34

Castello Doria, DOLCEACQUA – Via Castello
Orari di apertura:
Dal 30 aprile al 14 giugno tutti i giorni dalle 10.30 alle 18; dal 15 giugno al 31 luglio tutti i giorni dalle 10.30 alle 19.30. La biglietteria chiude 30 minuti prima dell'orario di chiusura.
Biglietteria:
BIGLIETTO INTERO € 9 – Consente la visita ad entrambe le sedi
BIGLIETTO RIDOTTO € 7 – Consente la visita ad entrambe le sedi
Gruppi di oltre 15 unità; convenzionati
GRATUITO
Ragazzi fino a 14 anni, giornalisti accreditati, guide turistiche nell'esercizio della loro attività
MONET CARD € 9
Riservata ai residenti dei comuni di Bordighera e Dolceacqua, consente il libero ingresso in entrambe le sedi di mostra per tutta la durata dell'evento. Sconto 10% sul catalogo.
Visite guidate:
1 SEDE € 80 + biglietto di ingresso
2 SEDI € 150 + biglietto di ingresso
VISITE GUIDATE GRUPPI SCOLASTICI € 5 a partecipante per ciascuna sede
Tariffe personalizzate per aperture straordinarie e itinerari nel territorio
INFO E PRENOTAZIONI
monet@sistemamuseo.it
www.monetinriviera.it
Dopo 135 anni dal soggiorno di Claude Monet in Riviera, tornano in mostra a Bordighera e Dolceacqua tre dipinti che il padre degli impressionisti produsse in questi luoghi per catturarne la luce.
I capolavori esposti sono considerati dalla critica tra i più interessanti della sua produzione.
La mostra è visitabile DAL 30 APRILE AL 31 LUGLIO 2019.
Due LE SEDI DI MOSTRA in cui sono esposti i tre dipinti:
– "Vallée de Sasso, effet de soleil" presso Villa Regina Margherita a Bordighera;
– "Le Château de Dolceacqua" e "Monte Carlo vu de Roquebrune" presso il Castello Doria di Dolceacqua.
——————————————————————————————
Le projet de l''exposition « Monet, retour sur la Riviera » s'inspire de deux lettres intenses écrites par Claude Monet, avant et après son voyage sur la Riviera italienne en 1884.
Reviennent ainsi à Bordighera et à Dolceacqua, 135 ans après ce voyage et ce séjour, trois des tableaux que le père des impressionnistes y réalisa pour chercher à saisir la lumière de ces lieux. Les chefs-d'œuvre exposés sont, aux dires des critiques, parmi les plus intéressants de sa production.
30 AVRIL – 31 JUILLET 2019
——————————————————————————————
The project for the exhibition "Monet, ritorno in Riviera" resulted from two intense letters written by Claude Monet, before and after his trip to the Riviera in 1884.
That journey and stay were 135 years ago; now Bordighera and Dolceacqua once again host three paintings which the father of Impressionism produced on these sites to capture their light. Art critics regard the masterpieces exhibited as some of the most interesting in his production.
30th APRIL – 31th JULY 2019
——————————————————————————————