Finale Ligure, a sun-baked town at the edge of the Ligurian Sea, has no symphony orchestra or opera house. But it has a maestro of its own: Franco Morasca, the manager of Bagni Est Finale, a no-frills, private club on the beach that pulls in generations of Italians each summer for a reminder of what it means to be Italian.
The term "Riviera" was born on this region, on this crescent-shaped stretch of coast known as Liguria, which runs from the ancient town of Ventimiglia, just over the border from France, through better-known destinations such as San Remo, as well as casual beach spots like Imperia and Finale Ligure. And just inland are some tremendously appealing mountain towns like Borgomaro and Apricale.
What unifies each of these destinations is the unpretentious collection of bons vivants who descend on them annually, many of them from Milan, who embrace traditions and a family-centered way of life that still predominates here.
That is where Mr. Morasca comes in.
Bagni Est Finale, the spot he runs, is just one of dozens of mini clubs that line the beaches along the Ligurian coast, each with its own collection of beach chairs, a small restaurant, espresso bar, family changing rooms and lockers, among other decidedly simple accommodations.
There is a magic at Bagni Est Finale, held together by Mr. Morasca and his sister, who work out of a shoe-boxed sized office overlooking the beach club, a perch from which they have watched young children turn into teenagers, then adults, then parents themselves, as they bring their own children back to be part of the extended family that comes back here each year. I found myself remembering that now-ancient Garry Marshall film (starring Matt Dillon), named The Flamingo Kid, about a Brooklyn beach club in the 1960s. Except the clock stopped at Bagni Est Finale and stands still today.
After an afternoon on the beach, wading in the azure waters of the Mediterranean, lunch in the patio tables, families move en masse for a nap under their umbrellas. The children often awaken before their parents, playing tag, football or random other games in the sand. Mr. Moresca, ever the maestro, has a large table in his cramped office with a floor plan that looks like seating for an orchestra, though the names penciled in next to each seat are family assignments for chaise longues.
Much about traveling is about finding places like this: spots of unvarnished beauty where you can vacation amid locals who are embracing their own way of life, which is different from yours. This beauty inspires you, months later and back at work, to stare blankly in the distance, past your monitor and into your memories.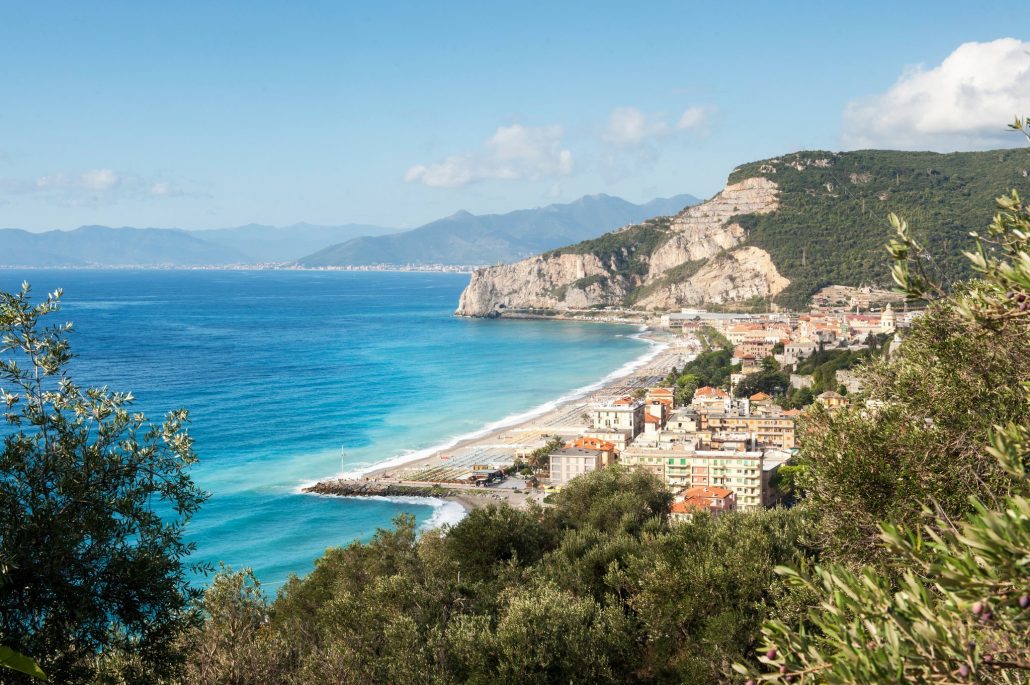 The Ligurian coast is certainly one of those spots. Its simplicity is like a time warp. It has none of the pretenses of Saint Tropez or big crowds of Cannes or even Cinque Terre or Amalfi Coast. But village after village offers an illustration of a kind of a slow-food world, delicious, worth savoring.
Literally. A new generation of young chefs, inspired by the mix of cultures and flavors, are helping reshape the Italian palette along this coast, grabbing the local seafood, as well as meats, fruits and vegetables produced from the nearby mountains, to produce some of the best food coming out of Italy today yet largely ignored by foodies worldwide.
My wife and I, and our two young children, spent a week in Liguria, deciding that we wanted to try something different beyond the well-trodden pathways of the French Côte d'Azur, to towns that for the most part, we had never heard of, or even heard anyone mention, other than perhaps San Remo.
We stayed in a hotel just above Morasca's club called Hotel Punta Est, built atop a cliff that juts out into the Mediterranean, offering tremendous views of the Ligurian coast. The hotel, while luxurious in an Old World way, with compact, but comfortable rooms, a sprawling cliffside patio where breakfast and dinner are served, and a grand living-room-like common area, was actually one of the few places on our trip that we had a mediocre meal.
OUR journey started in the Roman-era town of Ventimiglia, just four miles from the French border, where we stayed in a tiny bed-and-breakfast named Casa Fenoglio, built inside a 500-year-old home.
The town — whose historic core is only a couple of blocks long — is overlooked by most tourists but as you walk the cobblestone streets, you can't help but marvel at how much history took place on land that was occupied by the Romans in the Punic Wars in 181 B.C., and later was home to Christians who in the 10th century constructed the Romanesque Church of San Michele Arcangelo, which remains intact.
Nowadays, on Via Giuseppe Garibaldi, the main street, which is closed off to cars during the day, the shopkeepers are busy in their stores, while their children ride bikes in the street, laundry hangs from the clothes lines above, the ancient marble cistern still bubbles with water, and the bells from the San Michele church keep the time, marking moments in days that pass with nothing of much of consequence happening.
We stayed just a few doors down from the church, in a tiny inn that had just three rooms, each of which opened into a large common living room, decorated with books and Italian Renaissance prints. (The owner's father was a professor of Italian literature at a local university.) Centuries ago, the inn was home was apparently owned by a family with ties to the prince of Genoa, hence the balcony for observing the assembled residents of the town, now used as an open-air patio where the fresh fruit and just baked pastries for breakfast are served.
Just down the hill is a collection of restaurants, and, of course, a small beach club (with small stones, not sand) facing the Mediterranean. It was in Ventimiglia, on the "modern" side of the small town that we had perhaps the best meal of our trip, at Il Giardino del Gusto.
As is typical in these small towns, it was a run by a chef who also owned it, in this case Emanuele Donalisio, 32, who once worked alongside Michel Roux, the London-based French chef, while also doing stints in Monte Carlo and on cruise ship, where he tried out different flavors, from Latin America to Asia. That career history is apparent in his tremendous food, like the San Remo shrimp, caught nearby, which he prepared in a mango, fig and lime sauce, with olive oil and a special Sri Lanka pepper that had almost a grapefruit smell. Or in the locally caught sea bass, with trout eggs, carrot coulis, pine nuts, mushrooms and a dried, caramelized lemon. Ventimiglia also has a tremendous farmers market, with a display of fresh produce, locally made cheeses and pastas, meats and fish that offers a hint of just why the food is so tremendous here. Everything is so ripe and perfect.
THE nearby town of Imperia has a restored port, lined with small fishing trawlers and luxury yachts, and also features a long row of restaurants and casual nighttime entertainment, including, the day we were there, a festival of jugglers, clowns and various children's games.
Nearby was another collection of small, special restaurants, including Ristorante Sarri, right on a waterfront road and owned by Andrea Sarri, who recently served as head of a national alliance of young chefs. Some of the standout dishes at Sarri included the ravioli with pesto sauce, calamari with zucchini, baby lamb with artichokes. The fish, he picks from local boats, the artichokes, tomatoes and olive oil comes from his uncle's farm, and meat from an adjacent town. The way the Maritime Alps meet the sea here — creating a combination of fresh game, produce, fruits and seafood — explains the raw materials with which all these local chefs work, generating little international attention, but tremendous results.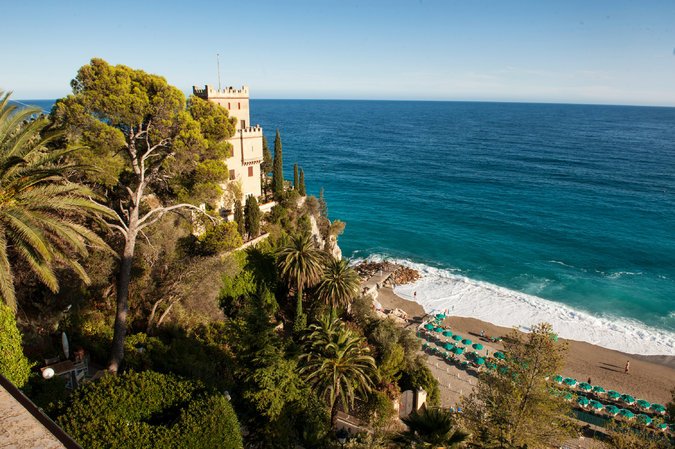 We headed inland from Imperia, into the mountains, where we found a collection of sleepy villages, staying for three nights in Borgomaro, a postage-stamp sized medieval-era village, where we did not encounter a single English-speaking tourist. The town, population of about 900, is built on a hillside, with a mountain-fed stream running right through it, and again, narrow streets, bordered by ancient homes, many in disrepair, but others that have been turned into what is known as an "albergo diffuso" which is a hotel spread among various buildings, in renovated townhouses, now collectively called Relais Del Maro.
There is next to nothing to do in this town — other than enjoy quiet afternoons, with local kids scurrying around the nearly empty streets. You can fill your days breathing in the pristine mountain air, going for a hike in the nearby hills, or heading down to the beaches below, on the Mediterranean. And the need for no urgent agenda is what makes it just perfect.
The nearby hillsides are overflowing with wildflowers. Many locals here grow Taggiasca olives and other local specialties to make their own olive oil, including Ugo Vairo, the owner of a small mountaintop restaurant called Il Gallo Della Checca, at the outskirts of Ranzo, another tiny town — this one is so quiet it almost seems like it has been abandoned. The restaurant is frequented by bicyclists who ride the local quiet mountain roads pausing at the house where Mr. Vairo has lived for decades — and where he also serves on the first floor a tremendous (but rich) risotto with his truffles, as well as a buffalo mozzarella, and a collection of other dishes.
Just how fresh is all this? After we ate lunch, he walked us out to an adjacent field, to show us his olive trees, freshly grown tomatoes and his nero pregiato, the prized truffles, which are hidden in underground mounds. He shuts his restaurant down for a few days in November to harvest his olives, and then bottles his own olive oil, selling just 800 bottles each year. Again, life is defined by its slow pace and the permanence of its routines.
NOWHERE was this more apparent than in Finale Ligure, our last stop on this trip, a town that most American tourists have never heard of. The town has its own museum-quality, walled-in medieval village, named Finalborgo, which is so well preserved it looks almost as if the Middle Ages wrapped up a week ago. But for us, the prime attraction was the beach club, and way of life there.
As we entered Bagni Est Finale, the beach club run by Franco Morasca and his sister, the clinking of the plates, and wafting smell of garlic pulled us into the patio restaurant — serving up fresh but simple seafood and pasta. There is nothing luxurious about this place. It is more spartan than high end. But it does not aspire to be anything else.
About the only commotion of the day was the small scrum at the espresso bar, as lunch time turned into afternoon. Mr. Morasca milled around, greeting the different families, handing out antique skeleton keys, which still open the lockers where summer guests store their bathing suits and other gear, for sojourns, after drying them in the sun each day on the community clothes line.
"It is so simple here," said Andrea Galli, who has been coming to take the same spot, with her family, for two decades. "The beach, the sea, the sun, and the flow of life in Liguria. What else could you want?"