The Cinque Valli is quiet and unhurried
Published on "Frugal First Class Travel" June 3 2017 by Jo
"https://frugalfirstclasstravel.com/2017/06/03/cinque-valli-italy-the-new-cinque-terre/"
Hi Frugalistas!  If you've been reading frugal first class travel for a while now, you'll know that a few years ago I visited the Cinque Terre on the Liguria coast of Italy.  It was a wonderful visit and the Cinque Terre is beautiful.  But I am just starting to wonder if the Cinque Terre is overcrowded and just a little too popular.  Going by the number of pins on my Beautiful Italy Pinterest board, it just  might be – almost every second pin seems to be about the Cinque Terre.  It's just as well I had the opportunity to find the beautiful Cinque Valli, further west in Liguria recently when I stayed at Liguria Holiday Homes delightful townhouse in Pigna.  So the secret is now out:  the Cinque Valli is the new Cinque Terre, and here is why……..
Typical Italian Villages
Basing ourselves in Pigna we didn't have the opportunity to visit all of the Cinque Valli area. There was just too much to see for the time we had available. But the villages we were able to visit thrilled us with their unspoiled authenticity. While there were a few other tourists in Pigna, the morning we visited Castellvittorio we were definitely the only tourists in town. The larger Dolceacqua was the only town we encountered tour buses. The more isolated Apricale is officially one of the most beautiful villages in Italy (according to the sign at the entrance to the village).
We found stunning alleyways and tiny streets to explore. We found old houses (the oldest one we saw had 1491 on the lintel). We found kids playing football on tiny squares and washing on the line.
The shopping was definitely local rather than for tourists.
On our first night in Pigna we turned up at the local pizza place and bar to discover the big screen and projector up. Within an hour we were at the best show in town as a huge table of locals settled in to eat dinner and watch Italian superstar football team Juventus play a big match (fortunately for us, they won). It seemed like half the town was there.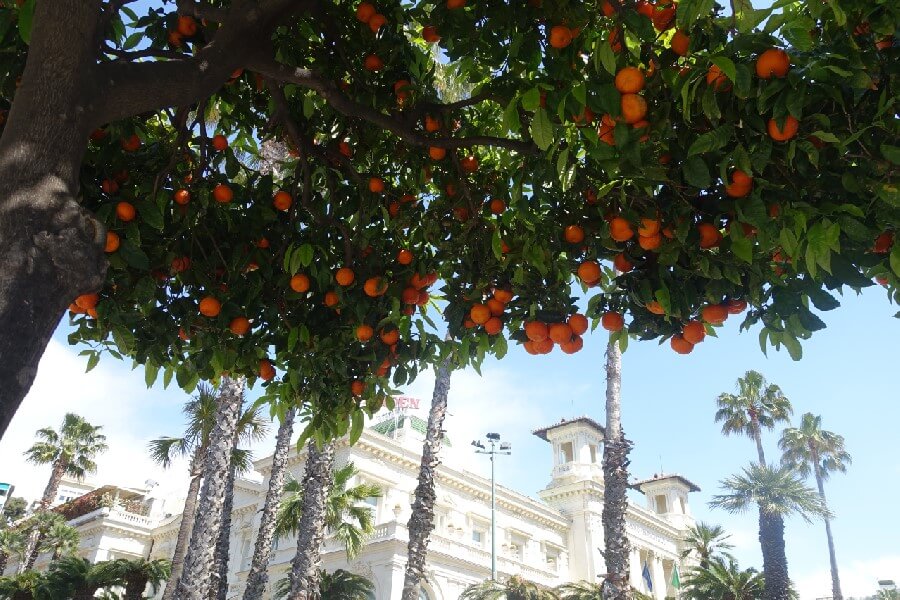 The area around Pigna has numerous hiking trails and the hilly scenery is certainly spectacular. While I'm definitely not a hiker, I did enjoy walking around the hills, and walking from Pigna to Castellvittorio. My friend, KB, who was with me on this trip is a serious hiker – as in a climb Kilamanjaro and hike in the Andes-type hiker. She was thrilled with the scenery and did manage one small hike during our stay. As we were leaving, she said "I'd love to come back here and do some hiking." High praise indeed.
Beaches
As we travelled around on the train we realised just how many beaches and little beach resorts there are along the Ligurian coast.  As an Australian, the beaches weren't exactly what I was used to – all stones and no sand.  But there was no denying just how pretty the blue Mediterranean Sea and the coast were in the sunshine.
Friendly locals
As in the Cinque Terre, cats rule.  KB thought I was attracting them because every time she turned around I seemed to have stopped to take a photo of a(nother) cat.  But, no, cats rule here too.  They were everywhere we went.
What was so different to the Cinque Terre though was the friendliness of local people.  The ladies in the Bar where we had our breakfast of a morning got friendlier every time we visited.  They were particularly thrilled when we started to take great interest in the dishes being prepared for lunch that day.  One of them was very helpful in finding us a driver so we could travel on Sunday (there are no buses on a Sunday from Pigna to Ventimiglia).
Walking the back streets and alleyways we saw lots of locals out and about for a morning or late afternoon walk.  Young mums watched their kids ride bikes and play football.  Everyone, and I mean everyone, said hello to us.  One old lady complained about her knees as we passed her in the street (in Italian, but we knew exactly what she meant).  Everyone knew we were just visiting, but that didn't seem to matter.  We knew we were welcome.
Eating local food and drinking local wine
Anyone who has ever read anything I write about food and wine will know that I adore trying local food and wine whenever I travel.  And I must say our trip to the Cinque Valli didn't disappoint.  Staying about 20km inland from the sea, there wasn't much seafood.  It took us a while, but we did find an authentic, delicious seafood meal in San Remo, away from the tourist menus and the paella & pizza for EUR9.90 "specials".
Back in Pigna we were delighted by a late lunch of wild boar stew, served with the tastiest caramelised rosemary and garlic potatoes. Our EUR32 Ligurian degustation at La Terme just outside Pigna was so grand we couldn't eat all our pasta (oh, the shame).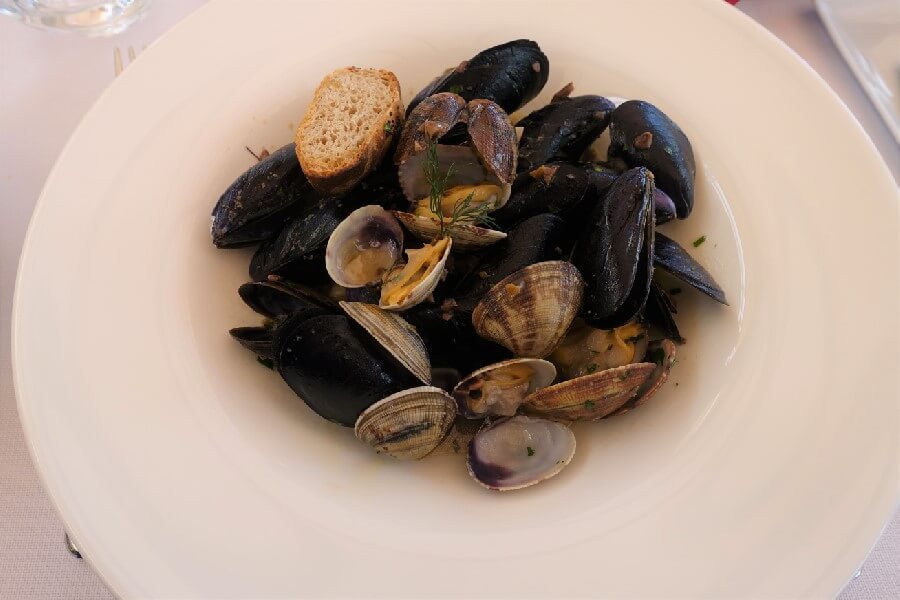 We saw vineyards while we were traveling around the Cinque Valli.  Rossese is the local red wine that comes from Dolceacqua.  It paired well with the local meats we were served.  The most expensive bottle we saw in a restaurant cost EUR18 (but more typically was EUR15).  When you go to the Cinque Valli you need to try it.  In San Remo the waiter recommended a white wine grown in the hills behind the town to enjoy with our seafood.  It was perfect.  As was the local limoncello, made by the friend of the owner, just 5km from where we were eating.  How local is that?
So is the Cinque Valli the new Cinque Terre?
I really do think the Cinque Valli could be the new Cinque Terre.  I suspect it is like the Cinque Terre of 20 years ago.  The Cinque Valli is quiet and unhurried.  Visiting in April, during school holidays, I still found far fewer tourists (although our weekend day trips to San Remo and Monaco were busy) than late April in the Cinque Terre.  Food in the Cinque Valli is gorgeous and local.  The locals are friendly.  Rick Steves always describes the Cinque Terre as a place to have a vacation from your vacation.  But I think he's wrong.  I think the best place to have a vacation from your vacation in Northern Italy has to be the Cinque Valli.
The Cinque Valli is so undiscovered, that you may find it difficult find a decent guidebook covering the area.  I used an old DK guide I already had, if you like DK guides.  But I found some other options you should check out here.  This is an affiliate link so I do earn a small commission if you buy something (I promise it won't cost you anything extra if you do)
Author's note:  I was a guest of Liguria Holiday Homes during my stay in the Cinque Valli.