Posted by Dia Adams, Travel Hack TravelingMom | Sep 13, 2016 | 5 |
https://www.travelingmom.com/destinations-international/cinque-valli/
Forget Cinque Terre! Cinque Valli in Liguria is the Italian region you need to know. From thousand year old villages to scenes directly out of a Monet, Cinque Valli gives you a more authentic Italian experience. Travel Hack Traveling Mom Dia Adams explores the region and shares Lirguia and its unique charms with you.
Rush hour in Cinque Valli. Photo by Dia Adams
Introducing Cinque Valli, Italy
My husband stopped giving me gifts years ago and I'm richer for it as every two years I get to travel solo for two weeks.  The downside is that those two weeks tend to be the first two in August- prime tourist season.  Because of that, I'm always on the lookout for the next great destination. Cinque Valli, in the Liguria region of Northern Italy, more than fit the bill.
Cinque Where?
Most tourists to Italy have a set itinerary: Rome, Capri, Florence, Cinque Terre. And while Tuscany is beautiful it's hardly the only beautiful region of Italy. Just to the west is Liguria- as beautiful with half the crowds and costing half as much.
"Cinque Valli" is off the radar for people- and that's a good thing. Pigna, on the western side of Liguria just this far from Cannes and Monte Carlo, makes a terrific base for exploring the area. But at first, it's jarring, to be honest. A little disorienting. No, scratch that–totally disorienting.  The entire town looks like a stage set. Because nobody actually lives in a Medieval town, right? Wrong.
My vision of "Medieval village" was Rottenburg, along Germany's Romantic Road.  Now Rottenburg is lovely, but it's basically a Middle Ages theme park.
Not so Pigna.
A few (very) hearty tourists have found the place but it's otherwise untouched from its founding 1000 years ago.  The 933 (as of 2004) residents go about their business of, well, survival. Time not only stands still in Pigna; it appears to move backwards.
Castel Vittorio as seen from Pigna, Liguria, Italy: one of the "Cinque Valli" that seduced me with its charms. Photo by Dia Adams
Medieval Pigna, Liguria in Cinque Valli, Italy
Once you arrive into Pigna, you have to park your car as the entire town is only accessible on foot. Pigna is Italian for "pinecone." Think of the streets as layers of a pinecone. Each only accessible by stairs from the next. It's a recipe for getting lost, which I did numerous times.
Pigna is not for anyone with mobility issues- and this includes needing to use a stroller.  If you can't Baby Bjorn or your tyke isn't ready for the hike, wait a year or two.
State of the art kitchen in an 1,000-year-old house at Liguria Holiday Homes. Photo by Dia Adams, Travel Hack TravelingMom
I was invited to preview Liguria Holiday Homes' new (on the inside) Medieval townhouse in Pigna and it's stunning. From the DeLonghi espresso maker to the LED lighted jacuzzi bath the home is an oasis from antiquity set in an 1,000-year-old frame. I enjoyed picking up some fresh pasta and tomatoes from the Alimenti and tossing them up with olive oil from a local grove. Paired with wine from neighboring DolceAcqua, I was in heaven and it cost me almost nothing.
Truffle laced pizza in Cinque Valli smells almost too good to eat. Almost. Photo by Dia Adams, Travel Hack TravelingMom
Don't fancy cooking on vacation? Thankfully there's truffle topped pizza to be found at Sol Ponte on the bottom of town as well as terrific pastries at Desir de Roy- I recommend the almond filled with Marzipan.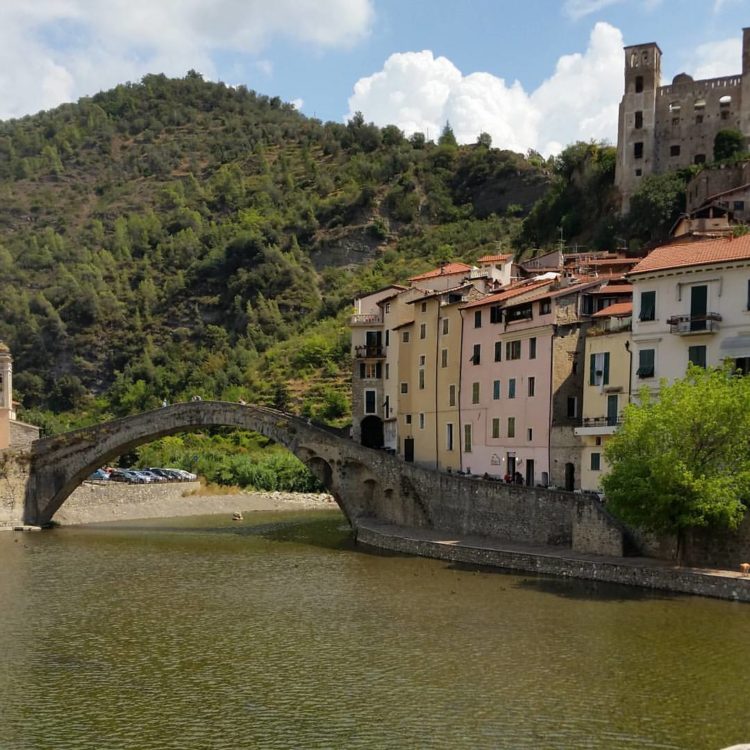 DolceAcqua, one of the Cinque Valli, Italy, is the setting for an 1884 Monet. Photo by Dia Adams, Travel Hack TravelingMom
DocleAcqua, Another Cinque Valli Gem
Special mention should go to DolceAcqua, about 15 minutes down the road from Pigna. It's a bit more touristy, but for good reason. My first thought upon seeing it was "this looks out of an impressionist painting".  Well, it is.  Monet spent a fair amount of time in DolceAcqua and a number of his works are based on the area. I could't drive by DolceAcqua without at least stopping daily for coffee.

San Remo's boardwalk goes on and on, Cinque Valli, Italy. Photo by Dia Adams, Travel Hack TravelingMom
Why Cinque Valli, Italy?
You can't turn around without running into coastline in Italy, and Cinque Valli is no exception.  I especially enjoyed strolling along the boardwalk at San Remo, gelato in hand of course!  Even at the height of August I didn't feel rushed or crushed and the environment was much more family friendly than the neighboring French Riviera.
Not only was Cinque Valli less touristed, it was less costly.  Liguria Holiday Homes sleeps six in luxury and rents for around $200/night even in high season, much less off season. Most (amazing) meals were under 15 Euro including wine and dessert. Breakfast? 2 Euro for a coffee and pastry.
It's going to take a specific kind of traveler to seek out Cinque Valli. However, if you're tired of the well-trod trails and looking to add authenticity into your travels- have I got a place for you.